Ayurveda is India's traditional and natural system of medicine that has been practiced for more than 5000 years.
Ayurveda emphasizes prevention of diseases, rejuvenation of body, the extension of life and treating illness through lifestyle interventions and natural therapies.
"VEDAMAROGYA", Ayurveda Multispeciality Hospital and Pharmacy in Valencia and Vedamarogya Centre in Kadri, Mangalore, INDIA is successfully treating the patients with various customized treatments with respect to Ayurveda traditions.
VEDAMAROGYA – is a visionary institution created out of knowledge, commitment and foresight of a team of Ayurvedic doctors, to provide a quality healthcare services to all sections of society. The physicians at VEDAMAROGYA, by virtue of their deep understanding of the concepts of Ayurveda, have been constantly innovating and adapting the Ayurveda treatments to suit the changing healthcare needs of different sections of the population. Our dedicated team of doctors and supporting staff strives to serve the ailing humanity in an ambience of utmost care & comfort.
VEDAMAROGYA is engaged in the practice and propagation of Ayurveda, the ancient healthcare system of India.
VEDAMAROGYA offers the best Ayurveda doctors in Mangalore and classical Ayurvedic medicines and authentic Ayurveda panchakarma treatments and therapies to the patients.
VEDAMAROGYA is one of a kind of Ayurveda clinics and pharmacy in Mangalore and the center for holistic health services that rejuvenates the body physically, mentally and spiritually. It is a tribute to natural living and aims to provide guidance regarding food and lifestyle, blending the traditional wisdom with modern conveniences, so that healthy people can stay healthy and those with health challenges can improve their health.
VEDAMAROGYA Ayurveda therapies have a vital role in the healing of health ailments along with medicines. Ayurvedic practitioners of VEDAMAROGYA developed therapies differentiating itself from other Ayurveda practices. The treatment divisions have a team of expert physicians and therapists, and a multi-disciplinary panel of doctors qualified in various specialties. At VEDAMAROGYA, you can savor the best of Panchakarma treatments, a unique treatment protocol employed in curative and preventive aspects of human health developed by the VEDAMAROGYA practitioners.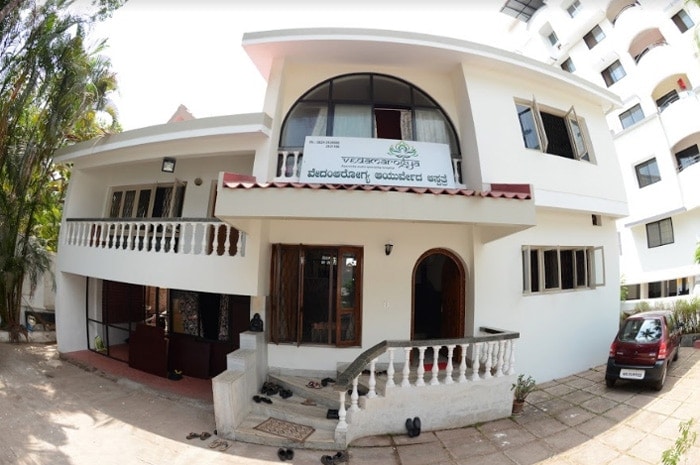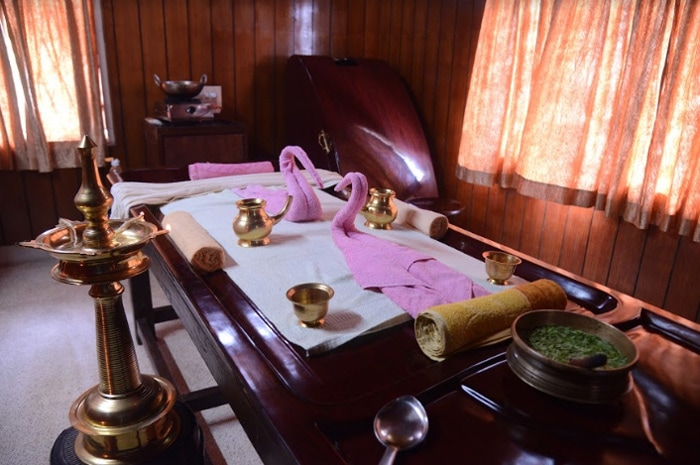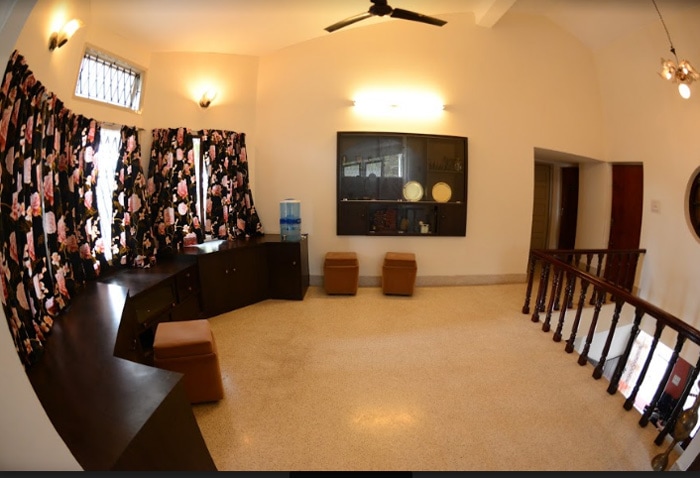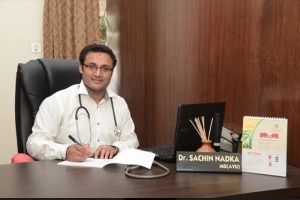 Sachin Nadka, MD (Ayu) is a Chief Ayurveda Consultant in Vedamarogya clinics. He is a Founder of Vedamarogya Multi Speciality Hospital, an Ayurvedic Hospital in Mangalore, Karnataka. He has conducted many Ayurveda Health Camps, National and International seminars related to Ayurveda Healthcare. After completing his Bachelor of Ayurveda Medicine and Surgery (B.A.M.S.) from SDM College of Ayurveda, Hassan, Karnataka he pursued his Masters in Ayurveda from the same institution. It's been more than a decade since he started serving people who visit from all around the world. Dr. Sachin Nadka is also involved himself in various health TV shows and also social clubs. Recently he was honored by " Ayurveda Sevak Award" by the team Revinto life science pvt. Ltd in Karwar, Karnataka and also considered as a best Ayurveda practioner in the District.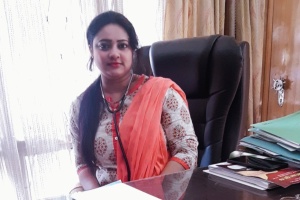 Anusha G, MD ( Ayu) is a Consultant Physician of Vedamarogya Multi Speciality Hospital. She is a Managing Director of Vedamarogya clinics and Pharmacy, who pursued her Bachelor of Ayurveda, Medicine and Surgery (B.A.M.S.) from Alvas Ayurveda Medical College, Moodabidri – Karnataka and done her Masters from K.V.G Ayurveda Medical college& Hospital, Sullia (DK).
She has attended many health seminars and conducted health camps in various city. Serving people since 8years, she has earned the respect and trust of the people, who are receiving treatments from her.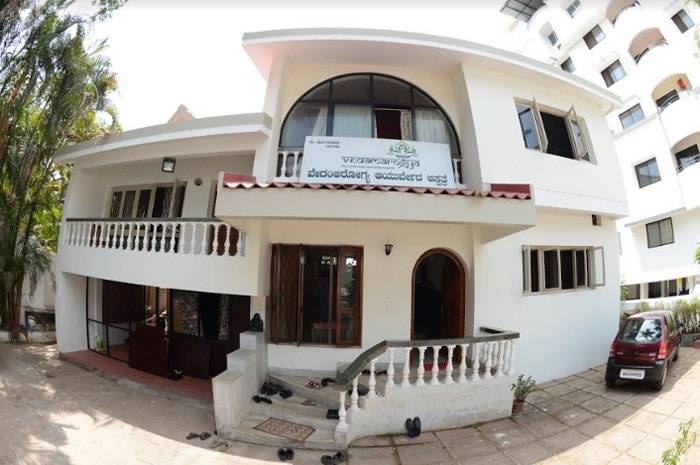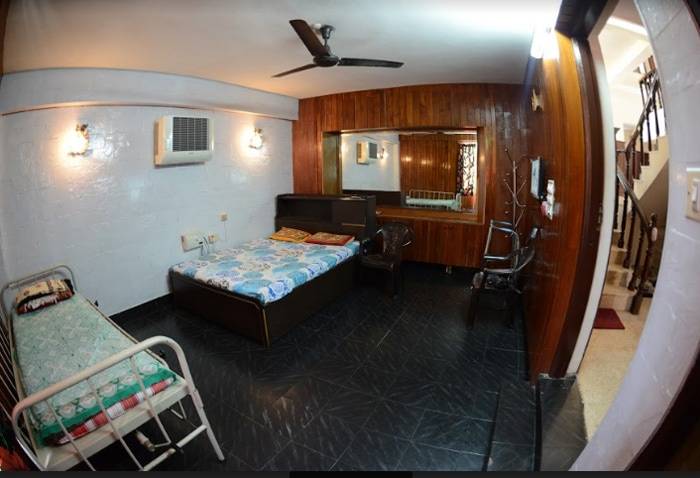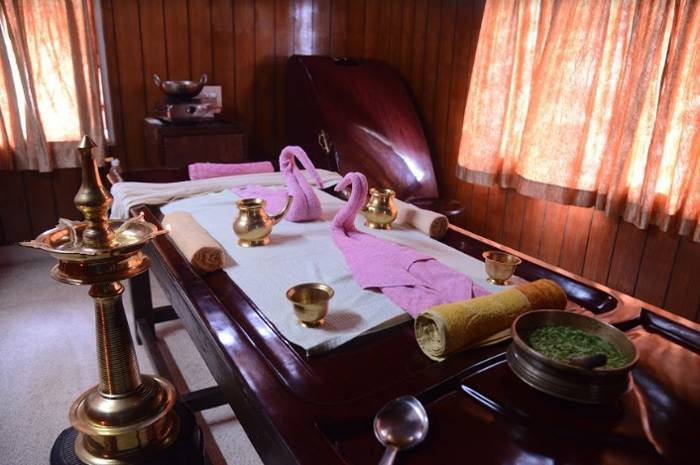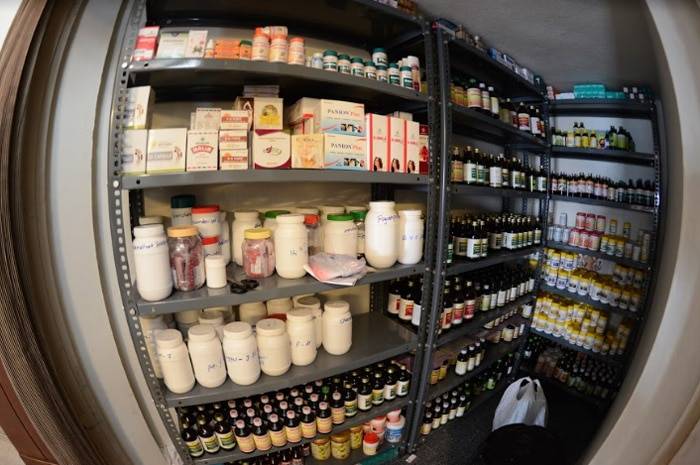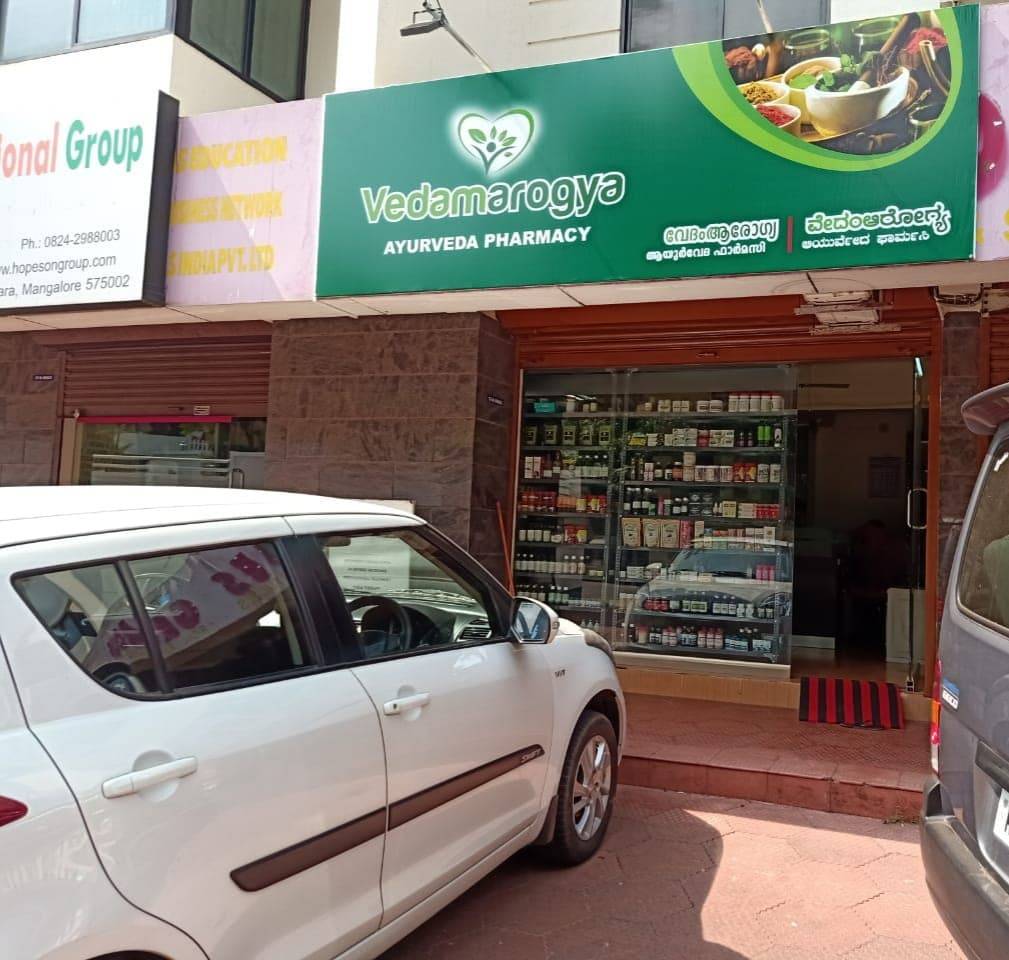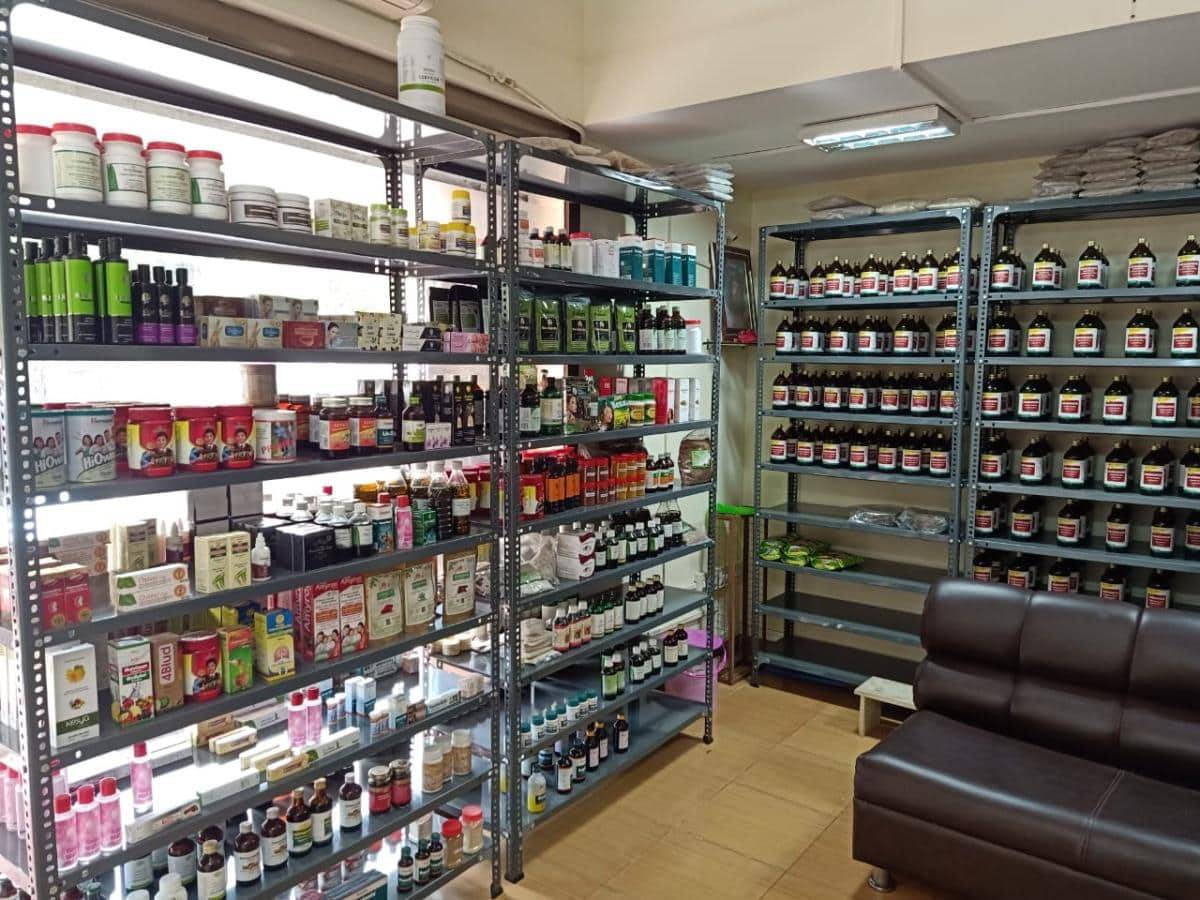 Vedamarogya Ayurveda Hospital
Vedamarogya Ayurveda Hospital
Vedamarogya Ayurveda Hospital
Treatment Rooms: 4
In Patient Rooms: 3
Consultation Rooms: 2
Separate Pharmacy
Patya Room
Reception
Ample Parking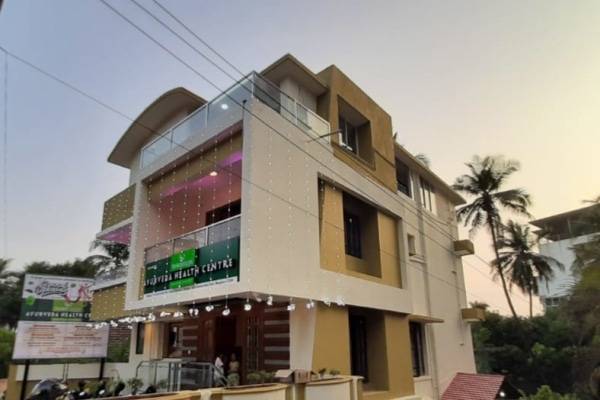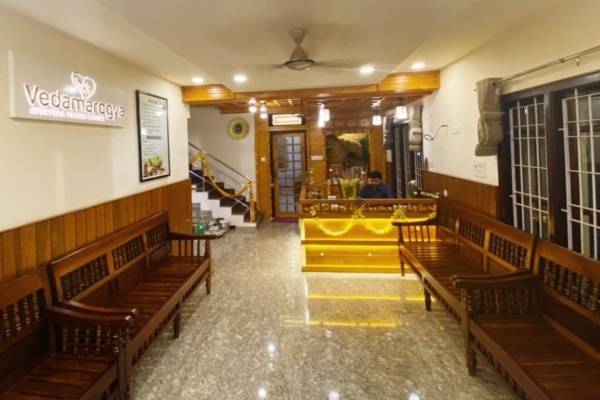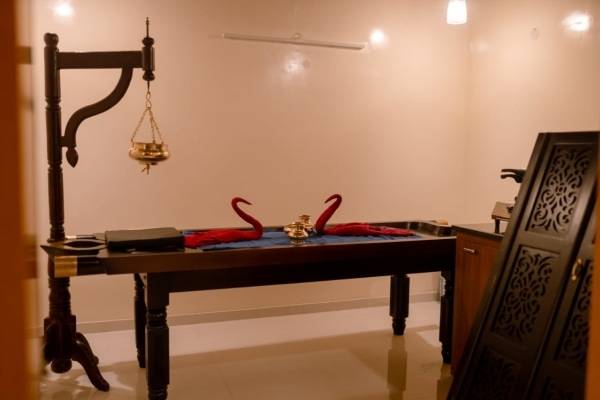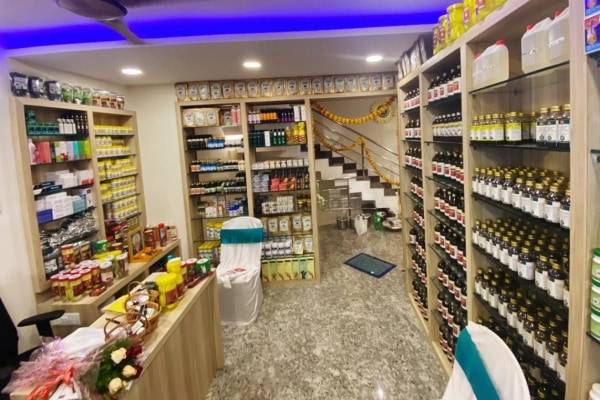 vedamarogya-kadri-centre-03
vedamarogya-kadri-centre-01
vedamarogya-kadri-centre-04
vedamarogya-kadri-centre-02
Treatment Rooms: 5
Consultation Rooms: 1
Pharmacy: 1
Yoga Hall
Patya Room
Reception
Ample Parking
"Heard about Vedamarogya through my friend. Took an appointment and came for a body massage. Good place. Nice treatment room. Background music in treatment room makes to feel more fresh and relaxing. Felt very relaxed after the massage. Doctor was also very nice and kind. Educated me on my diet , like what to eat to be healthy. Thank you."
- Mr. Preetham P
"My wife and myself had a very relaxing full body massage. I recommend that people should experience such healer massage. Thank you Vedamarogya."
- Mr & Mrs Neil Mathais
"Excellent, Ambiance, treatment facilities and nice atmosphere. Well trained staffs. Near to city premises. Very good experience."
- Dr. Ismail
"Myself Sunitha Fernandes, from Mangalore. I had back pain since many years. One of my friends suggested me to consult Dr. Sachin Nadka at Vedamarogya Ayurveda Hospital. Satisfied consultation with Dr. Sachin and also I got excellent treatment for my back pain, very relaxing therapy. Treatment room environment is very good. Hygiene maintained at the best. Great atmosphere. Hospitality is also very good. I recommend people to visit Vedamarogya hospital and experience the wellness. Thank you."
- Ms. Sunitha Fernandes
" Yes….I proudly say " it is my hospital." Thanks to doctors & staff at Vedamarogya. Just because of your friendly, effective counseling & treatment which I have undergone.If I am happy today it's because of you. Today I am free from my mental stress & problems and leading a balanced life. Thanks ….. for your wonderful treatment. All the best"
- Mr. W.A Rodrigues
" I am very impressed and touched with the result oriented therapies that I experienced at Vedamarogya. The commitment, hospitality and professional approach from the Doctors and the Staff are very pleasing. Post Medication and moral support from the leading doctors at Vedamarogya are highly appreciated. It was a great experience at Vedamarogya throughout my therapy course. "
- Mr. Imthiyaz Ahmed C
Want to see our Hospital Photos
Ayurveda Multispecialty Hospital in Mangalore, successfully treating the patients with respect to Ayurveda traditions.